Dance Connection is dedicated to developing the whole person with dance as a contributing aspect of the learning process.  Our goal as educators is not only to train dancers, but also teach and practice discipline, honesty, trust, responsibility, commitment, dedication, team work, self-control, respect, and perseverance.  All with a smile and joy! Dance is heartfelt, and we hope that each dancer's love, passion, and desire to succeed in dance will help them achieve their goals in life. Dance Connection Company Dancers represent the most dedicated dancers at Dance Connection. Each dancer is expected to strive for their best in dance excellence, as well as become mentors and role models to other dancers at the studio.
Dance Connection Performing Company, Ballet Company, Hip Hop Crew, and Dance Teams collectively represent the DC family at dance events and competitions.
*Audition for Dance Connection Performing Companies: Saturday, May 30 and Sunday, May 31 in J4.
Dancers can learn combinations in each style of dance on Saturday, then return on Sunday to audition. Auditioning dancers may also audition for a Merit Scholarship offered by Palo Alto Dance Connection Youth Ensemble, PADCYE.
PADCYE Merit Scholarship Form must be submitted by the due date to be considered for a Merit Scholarship in addition to auditioning. *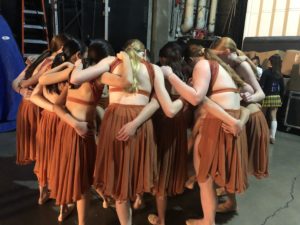 *Due to COVID-19, auditions may be offered online or privately between 5/30-6/3.
[
Click here to download the Dance Connection Code of Conduct
]
Check out Dance Connection Performing Company and Ballet Company awards!
Dance Connection Performing Company  (DCPC) – Elite Level 
The Dance Connection Performing Company is a premier training ground for serious dancers between the ages of 7-18. The company requires jazz and ballet training requirements, and also includes contemporary, lyrical, tap, and hip hop dance styles. At the advanced level, these dancers are interested in pursuing dance in higher education and/or the professional industry. Selection is by audition and at our DC Intensive, August 3-7 2020. Hip Hop Intensive is August 9-10 2020.
DCPC dancers are cast in several small and large group routines in various dance styles as well as solo, duo, or trio routines. Our DCPC company attends local dance conventions and training workshops, and regional dance competitions. They attend a national competition every other year.
DC Performing Company and families attended Nationals in Anaheim last July 2019 and performed at Disneyland!
Dance Connection Hip Hop Crews (DCHC)
DC Hip Hop Crews encourage an advanced level of hip hop performance and competitive dance at the Junior and Senior level with our professional Hip Hop staff. Training in other dance styles is optional.
Dance Connection Dance Team (DCDT)
Our Dance Team focuses on performance and team building. It gives students the opportunity to work with professional choreographers, gain additional performance experience, and expand their knowledge of jazz dance in a primarily noncompetitive environment. Dancers should have prior jazz dance training, and should love to dance. Registration is open online for both our Jazz Team and our Teen Team, and like our Ballet Company, and Performing Company, the dancers receive a scholarship rate on unlimited classes to help further their love of dance.
DCDT 2019-2020 Information and Events
Dance Connection Connectors
Connectors are a group of younger dancers (ages 6-8) interested in furthering their dance ability requiring a commitment above and beyond a recreational dancer including participation in conventions and performances in community events. Selection is by invitation only based on teacher recommendations. Kinder Connectors is designed for the kindergarten and first grade child who loves to dance!
Kinder Connector Event Schedule.