DCPC Royals Production 2019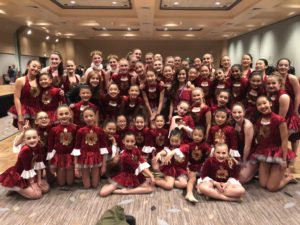 Our 2019 DCPC Company with Miss Alexa before our first competition at LADM!
Spotlight Regionals 2019
DCPC high scoring elite Diamond awards went to How We Do, Pop Drop & Roll, Bathing Beauties, Dream, Drill Em Down Challenges, Make Me Like You, The Royals, Plastic, Cover Girl, Habanera, and Home!
Ballet Company earned Diamond awards for Kitri Variation (Ashley and Mika), Queen of the Dryads (Teagan), and Gamzatti Variation (Nathania)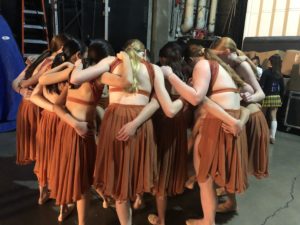 KAR Regionals, March 2019
Dance Connection won the STUDIO SPIRIT Award!
DCPC highest Elite honors were awarded to Bathing Beauties (1st Overall highest score, Most Entertaining, Video Award), Cover Girl (Alana Gordon–3rd Overall and Miss Petite), Plastic (4th Overall), Cringe (Karrie), Symphony (Kennedy–8th Overall), Habanera (4th Overall), Make Way, Pop Drop & Roll (Divas in Action award, 2nd Overall), Sassy Tappers went to Good to be Alive and Hip Hop Swaggin' award went to Cardi Time! We also recognize Kennedy–4th and Katie–5th runner up for Miss Junior Dance, Kaitlyn–2nd runner up, Vit–4th and Tate–5th runner up for Miss Teen Dance, and Evie–4th runner up for Miss Intermediate Teen Dance.
Ballet Company Elite awards were earned by Cupid Variation, (Taylor), Paquita Variation (Anya), Kitri Act 1 Variation (Mika–5th Overall), Queen of the Dryads (Teagan), Gamzatti Variation (Nathania–10th Overall)
Rainbow Competition, 2019
Cover Girl: Alana–highest score in 6-8 yr jazz category with double platinum and 3rd place overall, and….KAR convention scholarship.