Ballet Concert featuring selections from Sleeping Beauty
Friday, May 21 at 7:00 and Saturday, May 22 at 4:00 at Smithwick Theatre, Foothill College OR OUTDOORS at Cubberley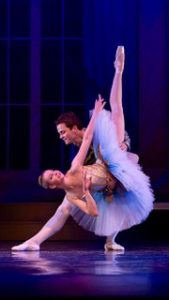 With the changing health climate, our performances may evolve and adapt.
Dance Connection continues a tradition of providing an optional ballet performance for all ballet students in the level primary through advanced with alternating costumed performance years. On even years (2022) we produce our low-key ballet concert. The odd numbered years (2021) include a full ballet production with costumes and scenery with Coppelia, Sleeping Beauty, and Cinderella.
Although we cannot produce the full Sleeping Beauty Ballet this year with costumes and scenery, we will create a ballet concert without formal costuming and sets which features selections from Sleeping Beauty.