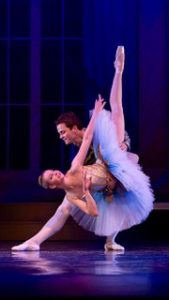 Spring Ballet Concert
Saturday, May 12 at 2:00 and Sunday, May 13 at 4:00
Smithwick Theatre, Foothill College
The Spring Ballet Concert an optional ballet performance for all ballet students in the level primary through advanced. No formal costumes.
Graded color-coded leotards will be used for costuming.
Online ticket sales begin on March 26 at 8:00 a.m.
BUY Saturday, May 12 tickets        Buy Sunday, May 13 tickets
Dance Connection continues a tradition of alternating costumed performance years. On even years (2018, 2020) we produce our low-key ballet concert. The odd numbered years include a full ballet production, alternating between Coppelia, Sleeping Beauty, and Cinderella. We will proudly present "Coppelia" in 2019!
Ballet Concert Dress Rehearsal Info
DC Ballet Concert Volunteering
BUY TICKETS: Ballet Company PADCYE Benefit Concert on Sunday, April 29 at 4:00-Cubberley Theatre
"Sleeping Beauty Memories" by Federica Armstrong