Friday, November 30th at 7:00 pm and Saturday, December 1st at 4:00 pm
Smithwick Theatre, Foothill College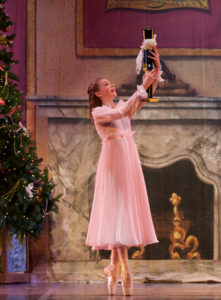 Cast & Crew Informational Downloads:
Nutcracker 2018-Master Rehearsal Schedule.3
NUTCRACKER 2018 VOLUNTEER JOBS
Cast members will find all important Cast & Crew information uploaded in their online dance accounts!
Come and watch the magic of 100+ Dance Connection dancers as they perform this timeless holiday classic. Tap dancing soldiers and jazzy mice join the exquisite ballet and pointe dancers in DC's family-friendly version. Appropriate for ages 3 and up with a performance under 2 hours with one intermission.
Purchase Dancer-Grams to be delivered to your favorite dancer during the performance to benefit PADCYE for our Performing Company. Flowers, concessions, and a limited number of Nutcracker Hoodies are available for sale at the performances to benefit our Ballet Company through PADCYE.