Friday, December 6 at 7:00 pm and Saturday, December 7 at 4:00 pm
Smithwick Theatre, Foothill College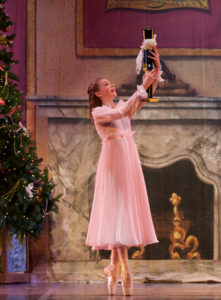 DC ballet, jazz, and tap dancers will learn Nutcracker choreography in their fall classes! Audition for roles on Saturday, September 28! Soloist and all advanced level and pointe auditions will be held August 24-25.
Cast members will find all important Cast & Crew information uploaded in their online dance accounts!
Come and watch the magic of 100+ Dance Connection dancers as they perform this timeless holiday classic. Tap dancing soldiers and jazzy mice join the exquisite ballet and pointe dancers in DC's family-friendly version. Appropriate for ages 3 and up with a performance under 2 hours with one intermission.
Purchase Dancer-Grams to be delivered to your favorite dancer during the performance to benefit PADCYE for our Performing Company. Flowers, concessions, and a limited number of Nutcracker Hoodies are available for sale at the performances to benefit our Ballet Company through PADCYE.